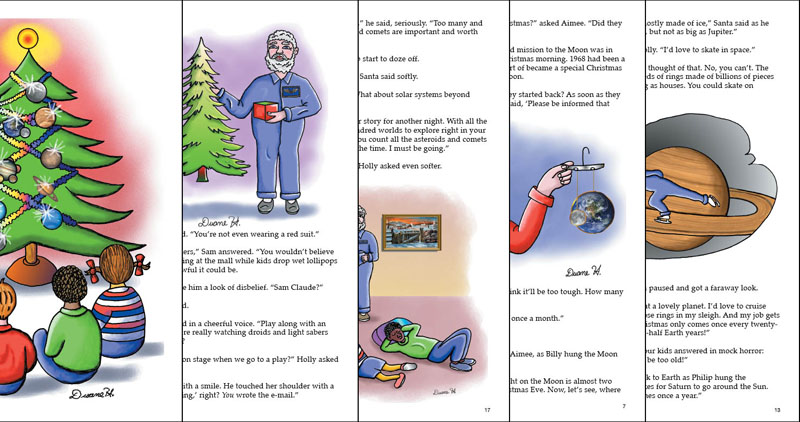 Celebrate the holidays during NASA's Year of the Solar System with The Christmas Planet, a charming new Christmas classic where Santa takes kids and parents on a quick tour of the solar system. This is a good family read that is less than 5,000 words long. The story is by Dave Dooling, who has won science writing awards from the National Space Club and written for Science@NASA, IEEE Spectrum magazine, Encyclopedia Britannica, Aerospace America, and others. As science editor of The Huntsville Times (1977-85) he became one of the few reporters to make a two-hour underwater spacewalk simulation. The illustrations are by Duane Hilton who has produced artwork for Science@NASA among other clients.

The Christmas Planet is more than a book. It's also a play and an ornament!

The story is cast as a 30-minute play that can be staged by schools, science museums, and astronomy clubs. You can stage the play in return for buying a quantity of books based on your expected audience (give them as attendance presents or resell them in your gift store).

Individual copies of the book — autographed by the author — are $9.95 plus $2 postage & handling (lower in quantity; international postage will be higher). Orders will be through PayPal (below) or by check.

As the author's gift to all, instructions on how to make your own planet ornaments are available at the National Solar Observatory. Based on maps developed by Mitchell Charity of MIT, the ornaments can be made from materials available at craft stores and from printouts on the NSO web site. Originally they were going to be printed as part of the book, but cost and other factors made it obvious that giving them away made more sense. They are published as a part of the Sunspot Solar System Model, the largest west of the Mississippi, third largest in the U.S., and 6th largest in the world.
---
Science education standards supported by The Christmas Planet will be posted this summer.
---
For additional information, contact the author, Dave Dooling, or mail him at P.O. Box 25, Sunspot, NM 88349.